"Without a Union, the people are always cheated, and they are so innocent"        

Cesar Chavez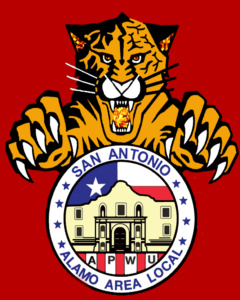 NewsFlash Vol 17 Number 35 Legislative Director

NewsFlash Vol 17 Number 43 Early Voting, AFL-CIO Endorsements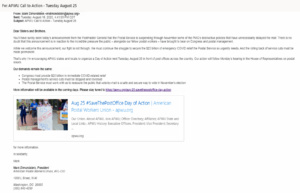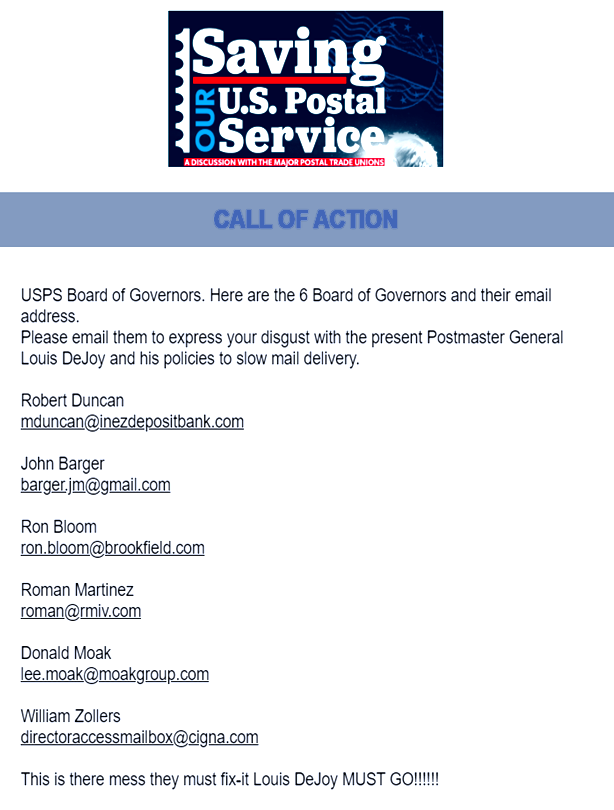 Express News

Trump and his cronies just launched a new wave of attacks on the US Postal Service that are a terrifying game changer in our ability to have a fair and safe election. A key figure is Postmaster General Louis DeJoy who is reshuffling critical staff and making cuts to overtime compensation for United States Postal Service (USPS) workers.1 These are changes that have already slowed down mail delivery and could potentially lead to the disqualification of millions of votes if they are not delivered before election counting deadlines.2 Right now, we need to act swiftly, not only to save the USPS, but also democracy.
Message your senators and power the fight to save the USPS by making sure the Senate knows millions of voters demand action.
It is clear that mail-in ballots have become crucial to a functioning democracy, but the Trump administration is working day and night to delay mail by sabotaging the institution that can serve as the catalyst for a safer, more inclusive, and better attended election cycle than ever before.3
This is shaping up to be one of the most contentious elections to date. Trump is falsely ingraining the idea that voting-by-mail will somehow cause this election cycle to be "fraudulent"––when vote-by-mail has been proven to increase rates of voter participation.4 The truth is: Trump's claims of fraud are just his way of sowing seeds of widespread doubt so he can have an excuse to pursue full-on voter suppression.
The current percentage of voter fraud, across the board, is at a whopping .0003%, but the percentage for rejected ballots due to tardiness is much higher.5 In states like Virginia, more than 5% of ballots were not counted in the June primary because they didn't arrive to the secretary of state on time. 6
The need for a strong postal service is directly tied to our ability to vote in a more fair election for people and planet. Add your name to help save the USPS and pass HEROES legislation for a more just recovery.
Sen. Majority Leader Mitch McConnell is holding up crucial legislation to protect families, essential workers and a people-powered democracy. The House passed the HEROES Act — a comprehensive pandemic relief package that includes urgently needed funding for USPS and elections— months ago. 
We can take bold action right now to bolster democracy with provisions like vote-by-mail, but instead, Trump and McConnell are trying to take us backwards. Their effort to sabotage the USPS, including Trump's reckless and illogical executive order over the weekend, is a badly concealed ploy to perpetuate intentional voter suppression.
Without a people-powered democracy, we risk losing our chance to restore a planet in crisis and protect people from the overlapping crises we are facing under this pandemic. Trump, McConnell, and their cronies know this. It's why they are vehemently opposed to more inclusive measures like voting-by-mail, and saving the institution that will help make it happen –– the U.S. Postal Service. It's up to us to stand up and say: that can't happen.
Send your message now to help strengthen our democracy and protect postal workers who could be at risk of losing their jobs.
Some of you might ask why Greenpeace is supporting the push to #SaveThePostOffice, and the truth is that we are building solidarity across movements for organized power at the ballot box and beyond. This pandemic has proven that what we need is a massive wave of people-powered protections for workers, families, communities, and the environment.
In essence, mail-in voting is the lifeblood of democracy for millions of voters right now, and especially in November. We need a functioning USPS to ensure that happens for the work to come.
With your message to the Senate we can work toward a more healthy democracy, which is a precondition to a healthy planet.
For the fight ahead,
Charlie Cray and the whole team at Greenpeace USA
P.S. the Senate has to intervene — to protect the USPS, protect our democracy, and protect people. Tell your senators to act now. 
[1] commondreams.org/news/2020/08/10/lawmakers-demand-removal-postmaster-general-dejoy-over-nefarious-efforts-destroy
[2] nytimes.com/2020/07/31/us/politics/trump-usps-mail-delays.html
[3] slate.com/news-and-politics/2020/08/democrats-sabotage-usps-friday-night-massacre-postal-service.html
[4] washingtonpost.com/outlook/letting-people-vote-at-home-increases-voter-turnout-heres-proof/2018/01/26/d637b9d2-017a-11e8-bb03-722769454f82_story.html
[5] brennancenter.org/sites/default/files/analysis/Briefing_Memo_Debunking_Voter_Fraud_Myth.pdf
[6] npr.org/2020/07/13/889751095/signed-sealed-undelivered-thousands-of-mail-in-ballots-rejected-for-tardiness
Click the links above to save your job.  Yes, save your job because if you do nothing now it won't be long before you lose everything!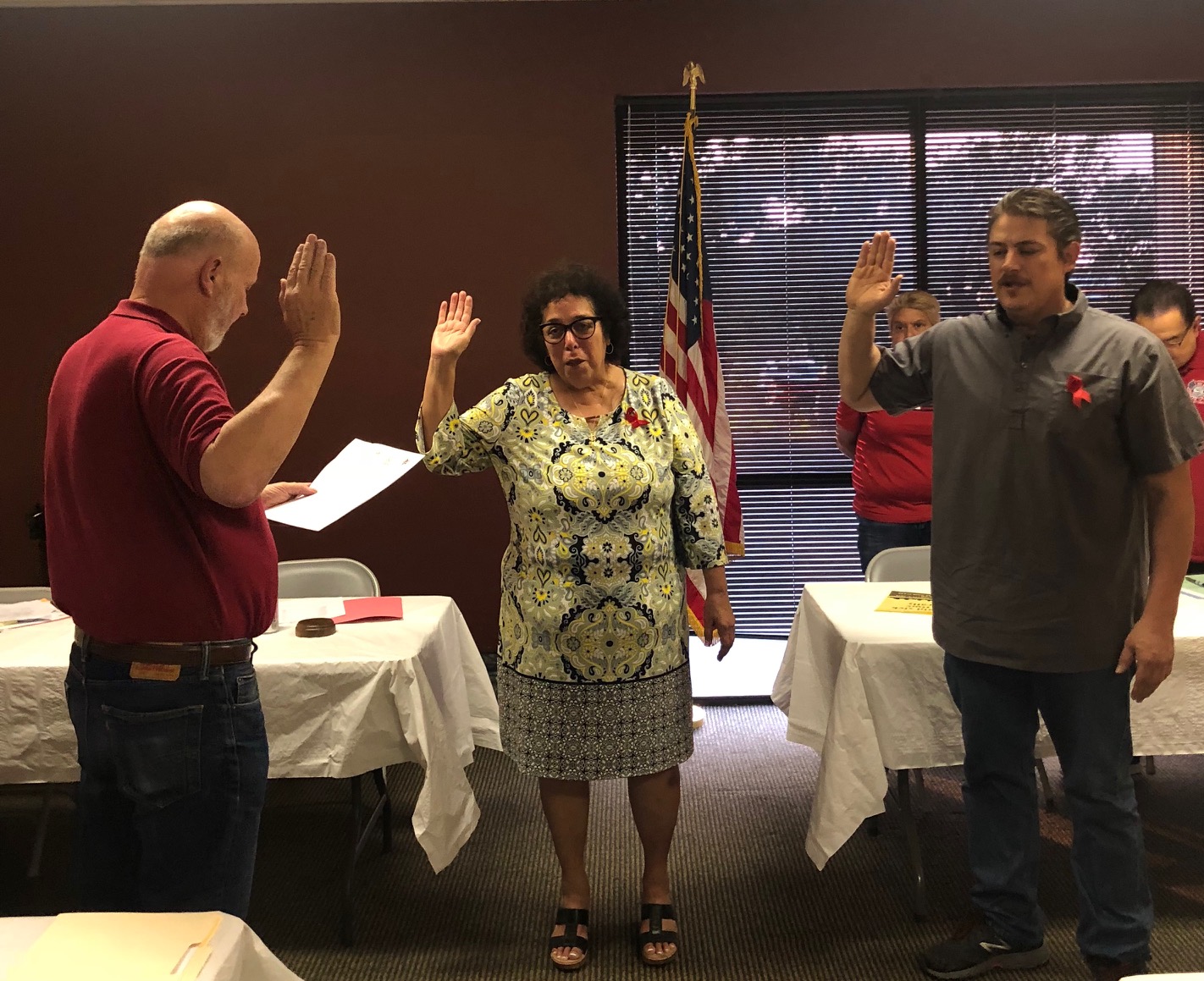 Latest news below
---
News from 2018
Click link above for the article.
---
News from 2017
The Postal Service Reform Act of 2017
A Positive Step Forward
On Tuesday, February 7, a hearing was held before the full House Committee on Oversight and Government Reform on the Postal Service Reform Act of 2017 (H.R. 756).
The bill addresses two serious key issues of concern: the pre-funding mandate and increasing postage revenue. In the article on the APWU webpage President Dimondstein said, "This legislation is a necessary step to solving the disastrous pre-funding mandate that is dragging down the Postal Service."
To read more on H.R. 756, please Click here.
› LU #3-2 Women's March (1/25/17)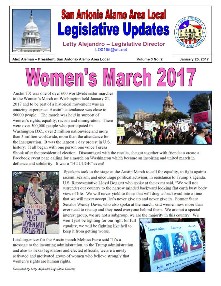 › LU #3-1 Holman Rule (1/11/17)
2/02/2017 – The 115th Congress has convened and lawmakers have wasted no time taking action on items of interest to postal workers. Legislative issues and action e-Team updates will address both challenges that arise and opportunities to advance our APWU agenda in the new Congress and new administ ration.
Postal Reform
On January 31, Representatives on the House Oversight and Government Reform Committee introduced The Postal Service Reform Act of 2017, H.R. 756. This bill is currently under review by President Dimondstein and the Legislative and Political Department. Updates will be posted on the APWU website.
Hiring Freeze
The U.S. Offices of Personnel Management (OPM) and Management & Budget ( OMB) released a memorandum on Tuesday, January 31 which made clear the hiring freeze does not include the U.S. Postal Service.
H.Res.31
Rep. David McKinley (R-WV) has re-introduced a resolution to restore mail service standards in effect as of July 1, 2012. This resolution, House Resolution 31 (H.Res.31) calls on the Postal Service to reverse its January 2015 decision to cut service standards and eliminate overnight mail nationwide. Previously, this measure was known as House Resolution 54 (H.Res.54).
Undoing the counterproductive mail delays that have angered and driven away postal customers is a high priority once again for the APWU. Your help is needed to build momentum and support for the measure. While such resolutions are non-binding, they serve as an important vehicle for lawmakers to express public support for an issue.
To send a message to your representative and ask them to co-sponsor H.Res.31, Click here.
To view H.Res.31 bill text and the current list of co-sponsors, click here.
---
News from 2016
› LU #2-18 ALEC (9/19/16)
› LU #2-18 TTIP Trade (9/12/16)
› LU #2-17 Tx Voter ID (8/16/16)
› LU #2-16 Vote By Mail (8/5/16)
› LU #2-15 Postal Reform Again (7/18/16)
› LU #2-14 Vets Bill Would Protect Credit Scores (7/4/16)
› LU #2-14 Makes No Cents (5/28/16)
› LU #2-13 HR4461 Federal Employees Rights Act Anti Federal Employee (5/04/16)
› LU #2-11 TPP (4/15/16)
› LU #2-10 Supreme Court (3/31/16)
› LU #2-9 Cesar Chavez (3/25/16)
› LU #2-8 Dolores Huerta (3/24/16)
› LU #2-7 Will your Job Disappear (3/14/16)
› LU #2-6 Super Delegates Explained (2/26/16)
› LU #2-5 Super Tuesday (2/12/16)
› LU #2-4 2016 Presidental Election calendar explained (1/29/16)
› LU #2-3 SAAAL Endorsed Candidates (1/20/16)
› LU #2-2 The Trans-Pacific Partnership clause everyone should oppose (1/16/16)
› LU #2-1 Fast Track & TPP (1/12/16)
Click here to learn more about Fast Track.
Call your senator and say "NO" to Fast Track: 1-855-712-8441.
2/05/2016 – Many Americans are turning their attention to the persistent and growing problem of income inequality. As the rich get richer and leave working families behind with wages that have stagnated for decades, our leaders in Washington should be mindful of the best way to raise wages — collective bargaining. Workers coming together, forming a union, and collectively bargaining is a tried and true recipe for raising wages. This winning recipe and the right to collectively bargain was enshrined in the National Labor Relations Act (NLRA).
Unfortunately, protections afforded to workers under the NLRA don't always translate into real life. In many cases, the legal deck is stacked against workers. There is little disincentive to stop companies from retaliating against workers who exercise their rights — the penalties simply are too small and too weak. Likewise, the timeframe for resolving unfair labor practices can stretch on for years, long after an affected employee deserved justice.
Workers need help to combat unlawful management practices and ensure more can exercise their collective bargaining rights, where workers can win a decent living wage, benefits, and respect and dignity on the job.
That's why Senator Patty Murray (D-WA) and Representative Bobby Scott (D-VA), introduced the Workplace Action for a Growing Economy (WAGE) Act last September. The WAGE Act significantly strengthens the NLRA and allows for effective and prompt remedies to employer misconduct. Under the WAGE Act, there would be real penalties and fines to discourage companies from retaliating against workers exercising their collective bargaining rights. As AFL-CIO President Richard Trumka puts it, "The WAGE Act asserts in no uncertain terms that workers' rights are civil rights."
Since its introduction, 25 senators and 74 representatives have co-sponsored the WAGE Act.
Have yours?
To read more about the WAGE Act, please click here.
---
News from 2015
Have you signed?
More Than 150,000 Have Signed Postal Banking Petition
12/08/2015 – More than 150,000 people have signed a petition launched by the Campaign for Postal Banking urging Postmaster General Megan Brennan to implement postal banking in post offices across the country. Organizers plan to deliver the petitions this month.
Have you signed? If not, there's still time. Click here to add your name.
The APWU has joined with 27 national organizations to co-sponsor the petition, including groups as diverse as Alliance for Retired Americans, Consumer Action, Daily Kos, Farm Aid, National People's Action, Public Citizen, and Social Security Works.
"This campaign has special meaning for postal workers and everyone who supports the public Postal Service," said APWU President Mark Dimondstein." To protect our jobs and our great national treasure, we must enhance postal services."
"We can better serve the public by offering affordable, non-profit financial services – paycheck cashing, bill payment, savings accounts and small loans – to people who desperately need them," he said.
"These services can strengthen the Postal Service, establish a new source of revenue, and help protect postal jobs," he added.
The Postal Service is the most highly rated federal agency and already offers some financial services, such as money orders. As the petition notes, the Postmaster General can act now to:
Install surcharge-free ATMs;
Expand services to include payroll check cashing, and
Provide bill paying and electronic funds transfers.
For those without access to traditional banks and those looking for an alternative to the big banks, postal banking is a real solution that serves the public, not Wall Street. Click here to read more.
› LU #1-9 Bernie Sanders Joins Verizon Picket Line (11/3/15)
› LU #1-8 GAO – USPS Scores Poorly on Mail Tracking (10/21/15)
› LU #1-7 Federal Health Care Plan Cost to Rise By Most in five years (10/9/15)
› LU #1-6 Mail Delays Spike
› LU #1-5 Post Office Can't Meet Its Own Lower Standards
› LU #1-4 Postal Service could make billions in banking
› LU #1-3 Congress Tries to Save USPS
› LU #1-2 Thank You from Letty Alejandro
› LU #1-1 Fox News Relaxes Republican Debate Criteria
APWU E-TEAM WEEKLY
E-Team Report, October 28, 2015
New Congressional Majority Against Mail Delays
The legislative movement against delayed mail achieved an important milestone over the past week. For the first time, an outright majority of the Republican-controlled House of Representatives is now calling for an end to delayed mail and the return of overnight mail standards. This accomplishment is building on the overwhelming and bipartisan 85-11 Senate vote in April against postal cuts.
Over the last week, 3 Republicans and 3 Democrats have signed on as co-sponsors of House Resolution 54 (H.Res.54), which now has 219 co-sponsors in total. Led by Reps. David McKinley (R-WV) and Paul Tonko (D-NY), H.Res.54 calls on the USPS to restore mail restore service standards to those in effect from July 1, 2012 – January 4, 2015. The latest cosponsors are demonstrative of the broad coalition demanding prompt service: Democrats and Republicans, urban and rural, committee chairs and congressional newcomers.
Rep. Fred Upton (R-MI)
Rep. David Young (R-IA)
Rep. Ryan Zinke (R-MT)
Rep. Rosa DeLauro (D-CT)
Rep. Frederica Wilson (D-FL)
Rep. Joaquin Castro (D-TX)
Although the USPS has temporarily delayed implementation of the planned closure or consolidation of dozens of postal facilities, the damage has already been done to the speed of America's mail. Overnight mail standards were eliminated by the USPS on January 5, 2015. Now, the USPS is failing to even meet these greatly lowered standards. In many cases, postal customers must wait days or longer for prescriptions, bills, checks, and correspondence. Ultimately, Congress has the authority and responsibility to ensure prompt and reliable mail service to all Americans.
While this new majority is important and noteworthy, it must be considered in context. This bipartisan resolution is a non-binding measure that does not carry weight of law. As such, H.Res.54 by itself will not stop America's delayed mail and the dismantling of the postal network – it is an essential tool in our fight to fix the problem. As the APWU and our allies push for action, be it through a government funding bill, comprehensive postal legislation, or any other venue – we are backed by the voices of an outraged public and the strength of congressional majorities in both chambers.
Each new voice will make our movement stronger. If your representative is not yet a cosponsor of H.Res.54, please contact their office and request they join today. Hover over a state to see how many its representatives are co-sponsors of H. Res 54. Click on the map to see which representatives are co-sponsors and which are not, and to see contact information.

APWU E-TEAM WEEKLY
E-Team Report, October 27, 2015
Tell UPS: Move Forward & Leave ALEC Behind
The American Legislative Exchange Council (ALEC) is a secretive organization of corporations that lobbies politicians behind closed doors, all under the guise of a tax-exempt charity. As a backroom partnership between corporations and lawmakers, ALEC routinely promotes model legislation designed to:
Drive wages and benefits down;
Restrict your rights for claiming workers' compensation;
Weaken safety standards on roads and highways;
Misclassify employees as independent contractors, so that companies can increase profits by paying workers less; and
Support right-to-work (for less) laws that weaken unions and make it more difficult to negotiate good contracts.
As ALEC's radical anti-worker agenda and undemocratic practices have been exposed in recent years, over 100 major international corporations have acted responsibly and quit the organization. UPS, however, continues to belong and financially support ALEC.
Last month, APWU joined a broad coalition of 84 organizations on a letter calling for UPS to leave ALEC. Sign below to join a broad coalition of working people, environmentalists, and others by asking UPS to leave ALEC.
ALEC is bad for UPS's reputation as a sustainable corporation, and worse for workers in all industries. If ALEC's legislative agenda succeeds, it could put the hard-earned pay and benefits of all workers at risk.
Click here to tell UPS to get out of ALEC now!