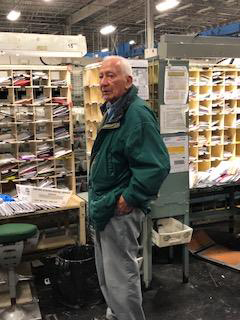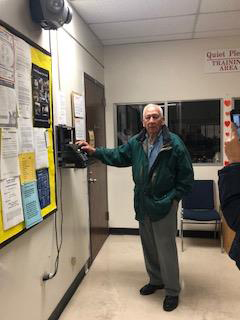 San Antonio Clerk, David Rodriguez has retired from the United States Postal Service with 67 years of service and number 1 in the country. He retired with more than 6000 hours of unused sick leave! The Postal Service doesn't even carry a pin for these many years of service, so they created something for him during his retirement. The District Manager(Steve Hernandez), Plant Manager(Dennis Staza), and several members of management as well as supervision of the Rio Grande District, were in attendance. The American Postal Workers Union had the Southern Region Coordinator ,Kennith L. Beasley (Click Here to learn more) in attendance and he presented Mr. Rodriguez with a card, gift, pin and even a funny joke. The Local President of the San Antonio Alamo Area Local as well as the Vice President were in attendance and presented Mr. Rodriguez with a plaque. Several of the SAAAL stewards wished him a joyous retirement as well as many of his former colleagues and co workers.
MX-4070N_20180601_113851

For the entire video presentation
These are a few photos taken at the Union hall. Clerk Craft Director, Carlos Barrios joined President Chris Rincon, and Vice President Fred Duncan for the photos and awards. Mr. Rodriguez was given a watch with the SAAAL logo as well as a plaque and framed award.
Below are the photos from the event held at the San Antonio GMF on May 31st, 2018.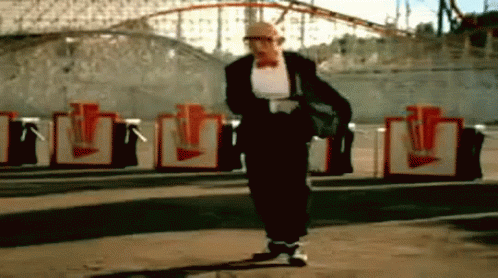 David Rodriguez Timeline of his Government Service
USAF Active Service – Korean War Veteran 10-13-1948 through 07-24-1952
Camp Stanley 05-12-1954 through 08-08-1957
Kelly AFB 04-15-1957 through 07-25-1958
United States Post Office Department 07-26-1958 through 08-11-1970
United States Postal Service 08-12-1970 through 05-31-2018
David Rodriguez has had many jobs within the postal service to include; Manual Section, Parcel Post, Flats, Automation, Expeditor, and numerous positions no longer in existence in the USPS!
During his tenure at the Postal Service, he accrued over 6000 hours of sick leave and he never called in to work. Mr. Rodriguez entered the post office when hours of work were not guaranteed so he made himself available to work. When management needed employees to work they would visit the

"Swing Room"

to seek out volunteers and he was always ready.
He averaged 12-15 hours a day with a work ethic that never changed. Even though years later the contract afforded him with 8 hours of guaranteed work he still reported to work hours prior to his Begin Tour in the event his services were needed to get the mail out!