Handbooks, Forms, and Manuals
Revised FMLA Forms – "Fillable"
Sample FMLA Forms
› Sample Form for Employee's Absence Plus Treatment
› Sample Form for Child with Chronic Condition
› Sample Form for Chronic Condition
› Sample Form for Hospital Stay
› Sample Form for Long Term-Terminal Illness
› Sample Form for Multiple Treatments
› Sample Form for Pregnancy
     Although the APWU forms may look different than the DOL forms, the APWU forms reflect the same basic FMLA medical certification requirements so as to permit healthcare providers to furnish appropriate medical information in accordance with the law.  The APWU forms are more streamlined, easier for healthcare providers to use, and protect against inappropriate disclosure of protected health information. For these reasons, the APWU encourages union members to use FMLA medical certification forms developed by the APWU.  Please keep in mind that, regardless of what format an employee uses for FMLA medical certification, if a medical certification is incomplete or insufficient, the Postal Service is required to explain to the employee in writing what specific, additional information is necessary to make the certification complete and sufficient and give the employee an opportunity to cure the defects.

〉 Instructions for Witnesses in Arbitration
Doctors certification form
This is a Union approved form for your doctor to fill out when you are out from work due to any of the reasons indicated on the  form.  Click Here for the download
Injured at work forms
Some of the important EL guides
Miscellaneous forms of All Crafts
Caution on the Use of USPS Publications
Note: Check for the latest issue. The Postal Service updates its various manuals and handbooks according to different schedules. (For instance, the ELM has been revised several times during the past couple of years.) To see if you have the current edition of a particular publication, obtain the latest Publication 223, Directives and Forms Catalog, from the USPS Web site.
Steward Resources All Crafts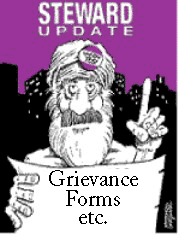 Steward Training Manuals
Grievance Forms
Handbooks / Manuals & INFO
Ode To The Shop Steward
author unknown
---

Who Is The Person Of Lowly Pay
With The Haggard Look And Hair Of Gray ?
Who Gets No Rest By Day Or Night,
Who Is Always Wrong And Never Right.
Who Doesn't Have A Law Degree,
But Who Goes To Bat For You And Me.
Though Seldom Have They Been To College
They Must Possess The Widest Knowledge
Of Labor Grades And When To Grieve,
Of Vacation Pay And Sickness Leave.
Of Overtime And Who's To Do It,
And Coffee Time And Who's To Brew It.
Then How and Which And Why And When
And All The Problems Known To Men.
If With The Foreman They Agree,
Then They're The Rats Who Have Weak Knees.
But, If To The Workers They Try To Cater,
Then They're Branded As Agitators.
The Guy Or Gal Who Has To Take The Slop,
Is Proudly Called Steward Of The Shop !